Tammi Dankworth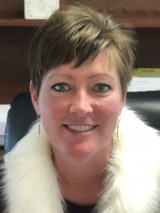 Email
General Lines Agent
I am an insurance agent and began my career with Willingham Insurance Agency in June, 2019 and I am thrilled to be a part of this team. I feel very confident in my ability to help you with all of your insurance needs. I am excited to become acquainted with our customers and their insurance needs. Our agency offers Personal and Commercial insurance to fit all you needs.
I was born and raised in San Angelo, Texas, and I graduated from Central High School in 1990. I met my husband a few years later, and as they say, "The rest is history." We have been married 19 years this year and have three beautiful daughters. Our oldest, Sydney, graduated from Ballinger High School in 2014 and went on to earn a business degree from Angelo State University. She finished in December of 2017 and stayed at the university to begin her first full-time job. She was in the purchasing office a little over a year. We are proud to announce she just accepted a new position at Mueller's and will be working in their accounting office. We are excited to have her back in Ballinger! Our other two are still in high school and keep us very busy with their extracurricular activities! Payton will be a senior this year and she is our stock show queen. We are proud of her commitment to the animals and the many responsibilities she has learned through this experience. Altogether, our girls have enjoyed stock showing for almost 15 years! Camryn will be a sophomore this year and it is her second year to be a Ballinger Bearcat Cheerleader. She loves cheering on her hometown superstars and we love seeing her have so much fun! In our free time, we enjoy going to the lake with our family and friends, barbequing, traveling, and chasing our kids around!
We feel very blessed to live in Ballinger, and because we live in a small town, we love that God can have a true presence in this community. There is no better place to live and raise a family!